A Medford woman plans to challenge the state's 16-year-old "cocaine mom" law after she was jailed after acknowledging past drug use while seeking a pregnancy test and medical help for depression and a thyroid problem.
The lawsuit, to be filed in U.S. District Court in Madison, will be brought by the National Advocates for Pregnant Women, the Carr Center for Reproductive Justice and the Perkins Coie law firm in Madison. They contend Wisconsin's law allowing authorities to detain and force treatment on pregnant women suspected of drug or alcohol use is unconstitutional.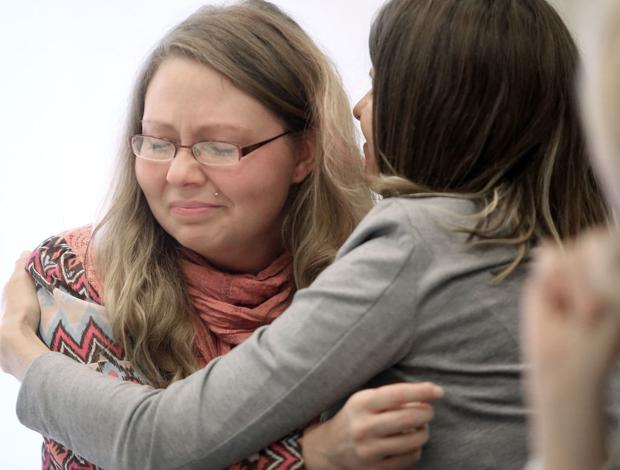 Tamara Loertscher, 30, of Medford, is comforted by Sara Ainsworth, director of legal advocacy for the National Advocates for Pregnant Women, during a press conference in Madison on Thursday. Loertscher is the plaintiff in a lawsuit to be filed with the U.S. District Court in Madison that challenges the constitutionality of a state law that allows officials to detain pregnant women suspected of alcohol or drug use.
The pending lawsuit and a related challenge to an administrative finding of child maltreatment by the Taylor County Department of Human Services will be filed soon, Sara Ainsworth, director of legal advocacy for the national pregnancy advocacy group, said Thursday. A message left with Taylor County Human Services Director Amber Fallos was not returned.
The lawsuit is being brought on behalf of Tammy Loertscher, 30, who was detained and jailed in July under a 1998 Wisconsin law that the advocacy group said is one of the most sweeping "fetal protection" laws in the nation. Wisconsin's law allows the state to detain and force a pregnant woman into treatment if she "habitually lacks self-control" by using drugs or alcohol, creating "a substantial risk" to the physical well-being of her unborn child.
At least 15 pregnant Wisconsin women were detained between 1973 and 2005 for allegedly endangering their fetuses or newborns by using drugs or alcohol, or refusing medical recommendations, according to a comprehensive review of cases in 2013 by the advocacy group.
Overall, the group identified at least 413 women in 44 states who had been taken into custody or threatened with arrest under a variety of laws seeking to protect unborn children. Joe Scialfa, a spokesman for the Wisconsin Department of Children and Families, said the agency tracks child-abuse cases but its statistics do not distinguish between children and fetuses.
Ainsworth said such cases in Wisconsin also are shrouded in secrecy because they're handled in juvenile court, where records are not open to the public.
"The law allows police, courts and child welfare authorities to seize control of pregnant women who are using or even admit to past use of alcohol or controlled substances," Ainsworth said. "This law authorizes a vast array of coercive, punitive actions against pregnant women who are not actually using any substances at all but have simply been honest with their doctors about past drug use."
According to the group, Wisconsin is one of a handful of states, including Minnesota and South Dakota, with specific laws allowing civil detention of pregnant women for suspected drug or alcohol use.
Expectant mom jailed
Loertscher, a certified nursing assistant, said she was 14 weeks pregnant when she sought a pregnancy test and help for depression and a thyroid problem. She told a physician at Eau Claire's Mayo Clinic Hospital that she had used methamphetamine and marijuana but stopped taking them when she thought she was pregnant.
Taylor County Human Services filed a petition seeking to protect her unborn child. A court ordered Loertscher into inpatient drug treatment, Ainsworth said, "even though she had not been using drugs and had voluntarily sought the medical care."
When she refused, Loertscher was found in contempt of court and taken to the Taylor County Jail, where she remained for 17 days — including time in solitary confinement — for refusing to take a pregnancy test. Loertscher was released after she agreed to urinalysis throughout her pregnancy.
Loertscher said she received no prenatal medical care during her jail stay, an experience she called "horrible."
"I had been fighting my entire time while in jail to get care for my baby because I was worried about him," Loertscher said .
If the county's tentative finding of child maltreatment is upheld, Ainsworth said, Loertscher would be banned from working in health care and could even be barred from volunteering at her son's school. Loertscher said her baby is due Jan. 29.
'Crack baby' fears
Wisconsin's law was passed unanimously by the state Assembly and by a wide margin in the Senate during a national wave of concern over so-called "cocaine moms." It had strong support from anti-abortion groups and others concerned about infant well-being.
But a recent longitudinal study by the Children's Hospital of Pennsylvania found the "crack baby" fear overblown and that such children differ little from children in similar economic and social circumstances whose mothers did not use drugs.
Another study of 1,618 mothers in Los Angeles, Des Moines, Tulsa and Honolulu screened for methamphetamine use and reached similar conclusions. The 84 babies born of meth-using mothers were smaller than those born to nonmeth-using mothers, but there was "no measurable difference in psychological functioning by age 3," according to an editorial by Dr. Mishka Terplan, medical director of Behavior Health System in Baltimore, who spoke Thursday.
Several medical societies, including the American Medical Association, have come out against laws such as Wisconsin's, saying they discourage women from seeking medical care or being candid with doctors.
Heather Weininger, executive director of Wisconsin Right to Life, said she would reserve comment until the lawsuit is filed.
Previous challenge to law
This is not the first time Wisconsin's "cocaine mom" law has been challenged in court. Last year, the pregnancy advocacy group sued on behalf of Alicia Beltran, a Jackson woman jailed on the orders of a Washington County Circuit Court commissioner in 2013.
According to her lawsuit filed in U.S. District Court in Milwaukee, Beltran was 31/2 months pregnant when she told a physician's assistant that she had a previous problem with Percocet and had just finished taking Suboxone as treatment. The physician's assistant recommended Beltran continue taking Suboxone, but she refused.
Beltran was arrested and taken to the Washington County Jail. Even though a doctor had found both Beltran and her fetus to be in good health, Beltran was confined to an inpatient treatment center for more than two months.
Meanwhile, the district attorney's office filed a petition saying Beltran's unborn child was in need of treatment and services, a step that could lead to Beltran losing custody of her baby.
While at the treatment center, Beltran was subjected to urinalysis, "which was negative for all drugs, including Suboxone," according to a summary of Beltran's case by District Judge Charles Clevert Jr. After Beltran filed suit, the district attorney withdrew the CHIPS petition, and the other court restrictions expired.
Clevert found what happened to Beltran, if true, "extremely disturbing." But he dismissed her lawsuit in September, finding that it was moot because Beltran had been released from custody.